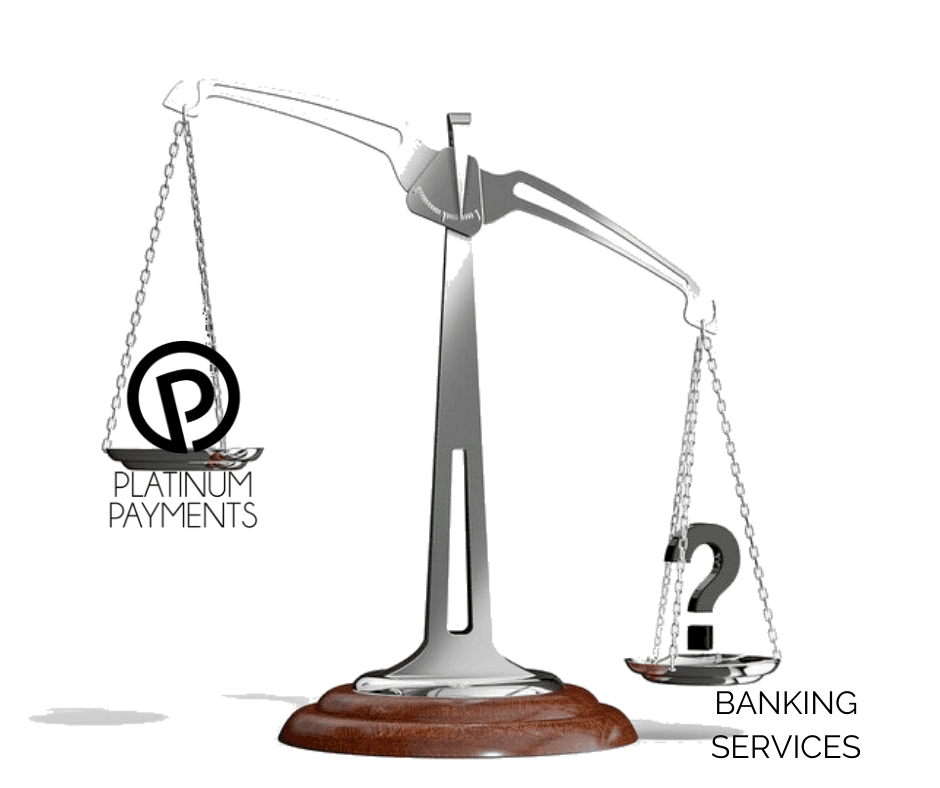 Banking Services vs Platinum Payments: Rates, Flat Rate, Funding and Pricing!
Banking Services vs Platinum Payments: Rates, Flat Rate, Funding and Pricing! We get that having everything all in one place makes things easier, however, easier is not always better. Banks that offer merchant services may not be in your best interest. Here are just a few of the differences between banks and Platinum Payments.
Banks
Rates Are Not Competitive
Companies are advertising set rates, and low rates but you need to do your homework. Flat rate pricing may not be your best option, thinking you are getting a low advertised rate but the added fees and assessments may not be fully disclosed. You may be told you are getting a rate as low as 1.5%, which may be true, for the first month or two of processing, then it will slowly increase and most business owners are unaware of the upped prices. If you are aware, you will then need to babysit your account for the rest of time.
Having A Middle-Man
When comparing merchant services between a bank and a credit union, the credit union will often have better rates and fees for those who want to have their services at the same place they do their banking. Banks tend to re-sell the merchant services with an intense mark-up, and then lock you into a contract or equipment lease. Banks typically do not make their money from business services, so they need to increase the fees paid so they can be profitable.
Funding
A lot of banks will promote next or same-day funding to entice merchants.
No Industry Experience
Tellers and managers are not typically versed in the ins and outs of how merchant accounts and credit card processing. They may unknowingly give you bad advice and lead you down a path that may result in a disaster. They will not be able to provide you any customer service or help with your account whatsoever should any problems arise.
Contracts
No one wants a contract, but when there is the potential of added margin twice a year, they will definitely take advantage of that. Banks are in the business of making money and will do whatever it takes to lock you in with them to have the security of revenue off your business.
---
Platinum Payments
Rates ARE Competitive
We have many different pricing structures, the use of Interchange Optimization, and some of the lowest rates available.
NO Middle-Man
There is no middle man, no extra mark up, you are dealing directly with your processor. Cutting out the extra hands in the cookie jar ensures things will be more cost-effective and much more simple.
Funding
Any merchant can get the same features and usually more options and it is cheaper than the bank.
A Lot of Industry Experience
We have Payment Professionals who are trained weekly to stay with current trends and technology. Our headquarters office alone has over 50 years of combined experience in the industry. Why not work with the best?
No Contracts
We don't do them, we don't want to be in one, so we don't force our clients into one either. We don't raise our rates. This is one small part of our Platinum Guarantee, read more about that here.
---
This is just a sample of the differences.
Get with a Payment Professional today to learn more about our other products and services.
We want to use our expertise to help you with all of your processing needs.